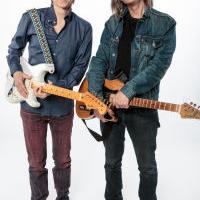 The greats of jazz and rock meet | Music
For fans of fantastically performed jazz and rock electric guitar, an Eric Johnson or Mike Stern show would be something for the calendar.
Now the couple have recorded an album together and are on the road to support it with a tour that stops at Harvester Performance Center in Rocky Mount on Saturday.
But don't expect a loaded and confusing guitar battle. Johnson the renowned rocker and Stern the announced jazzer are above all musicians.
"That's really what makes music work," Johnson said. Stern is "really sensitive to this, and I try to be." So what happens is you don't like a big cacophony of two guys fighting or rubbing against each other as much as they're trying to complement each other.
"And that's why it's such a fun thing to do the double guitar thing with him."
Categorizing these musicians as strictly rock or jazz is not fair. Both have developed unique styles that draw on a multitude of influences, and their common musical interests are evident on the CD "Eclectic", released on November 6th.
From those interests comes inspiration, they said in separate interviews.
"When I play with someone like that who comes from a different place musically and just has a lot of musical sense… that's cool for me," Stern said on a phone call from Nice, France. "It's a great learning experience and it's very inspiring. "
They knew each other and loved each other's games, but a deeper mutual respect quickly developed for the two after Stern called Johnson to record with him on his 2009 album, "Big Neighborhood".
"Mike has always enjoyed all kinds of music," Johnson said over the phone during a solo tour in Santa Rose, Calif. "He's a real fan of music in the broad sense. And it's a bit the same for me. I have always liked different styles of guitar.
The duo wanted to do more together after that 2009 session, but never figured out what until the Blue Note Jazz Club in New York's Greenwich Village invited them to collaborate for a week of performances.
They formed a band with drummer Anton Fig and bassist Chris Maresh, and the shows went so well that two weeks of East Coast dates came to fruition. Then Concord Records asked them to make a record together.
With the same players from the live shows, as well as guests including frontman Malford Milligan and Stern's wife Leni Stern, they recorded the album in about four days, with another week for engineering and minimal overdubs. . Ninety percent of the record was live, with players playing together in the same room.
Stern and Johnson both used the same word to describe sessions: organic.
"There were surprises for all of us, the way we played the tunes and the way they came out," Stern said. "And we left the surprises and some of the rough edges, so it's not that technically absolutely perfect. "
In what might come as a surprise to Stern fans, he will be performing on stage. Johnson is known for his vocals, but sharing vocal duties on a cover of Hendrix's "Red House" – as they did on "Eclectic" and plan to do live – is a relatively new thing for Stern.
"I don't know, I'm in that singing part, to tell the truth," Stern said with a laugh. "A little hard to remember the words, even if they are simple. … But I'm in it.
"I would love to know more, especially the blues tunes, because they work so well. Of course, jazz and blues are married, you know what I mean? So it really works. … When I write or play, or even when I play a jazz standard, there's just a blues coming out.