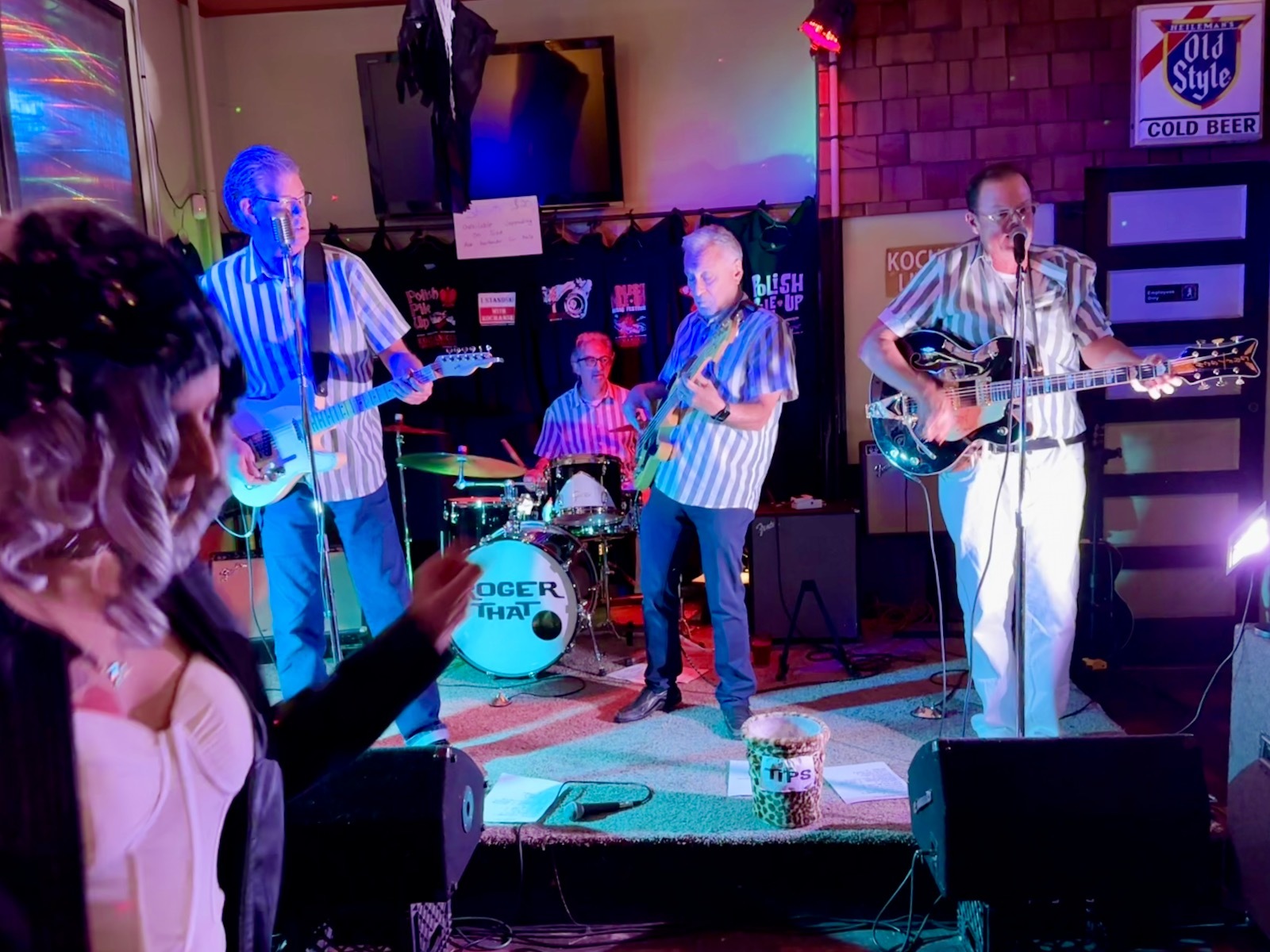 Surf rock band Roger That spreads its wings in Milwaukee and beyond
Just south of the border, a quartet of talented musicians with Wisconsin ties got together in 2019 and started jamming to the music they love.
During the pandemic, the group that eventually called itself Well received Formed in Highwood, Illinois, and with a setlist of over 75 surf rock, British Invasion and rockabilly tracks in their repertoire, they are making a name for themselves in the northern suburbs…and hope to play further north.
When Roger That played this Halloween at Kochanski's Concertina Beer Hall, for example, you could see how what started as background music for a pin-up competition turned into a clinic for professional musicians honing their craft. .
"There are people who follow us now and come to our shows regularly," says drummer Will Wiegler. "Then there's always new people who show up at a particular place and come up to us and say, 'Who are you guys?! ""
Consider this author one of the latter.
Wiegler says his band appeals to serious music fans and musicality fans alike, and while they're performing covers, you're not going to hear Tom Petty or "Freebird" at a Roger That show. You will, however, hear Dick Dale, Carl Perkins, Eddie Cochran and a killer extended version of CCR's "Born On The Bayou".
Roger's "Roger" This is Roger Underwood, retired firefighter and master guitarist. Ira Sussman plays bass and David Shamrock plays guitar and sings solo — and he can effortlessly sound like John Lennon, Johnny Cash or Johnny Rivers, according to Wiegler. They're huge Los Straightjackets fans and have even taken lessons from them, and in the surf rock genre they perform as well – or better – than anyone you'll hear covering that style of music.
For four middle-aged guys with day jobs and a lifetime playing in other bands, Roger That quickly gelled. And they would like more shows in Milwaukee.
Whether through family ties in Wisconsin or gigs in Milwaukee and Kenosha, Roger That hopes to break into that market – from northern Illinois, Milwaukee is as easy to get to as Chicago, in fact.
"We're all at that point where we can make music a bigger priority than we could earlier in our lives," says Wiegler. "We would like to spread our wings and play in places where we have never played before."
It doesn't matter if they play in front of 500 or 50 people, says Wiegler: Roger That sees every gig as a chance to compete against each other and play the music they themselves are fans of.
Says Wiegler, "I've been in a lot of bands where you just follow the moves or it's a chore, or you're not really thrilled with the people you play with, but it's a commitment and you do it. This band has none of that. We just can't wait to play together. If there's one person in the crowd and they pay any attention to us, we're all there. That's great to play in front of a huge audience, but we'll be playing in a 10-person bar and having the best time.
Currently, Roger That plays approximately 35 gigs over a six-month period from spring to fall, taking the winters to regroup. But if the right opportunity presents itself, in Milwaukee or elsewhere, they will come out of hibernation.
"We love bars, we love outdoor festivals, but we seem to have this appeal to people of a wide age range," Wiegler says, pointing out that the band even played a sixteen-and-a-half party. senior center, to the delight of both crowds. "They were dancing, they were all into it. These are timeless genres."
Says Wiegler, "People always say that we've been playing together for decades, that we're so close. It's the love of the music that we make. It's the experience that we all bring to the table. None neither of us is a first-time musician in a band for the first time. We just connect around the music. We pay attention."