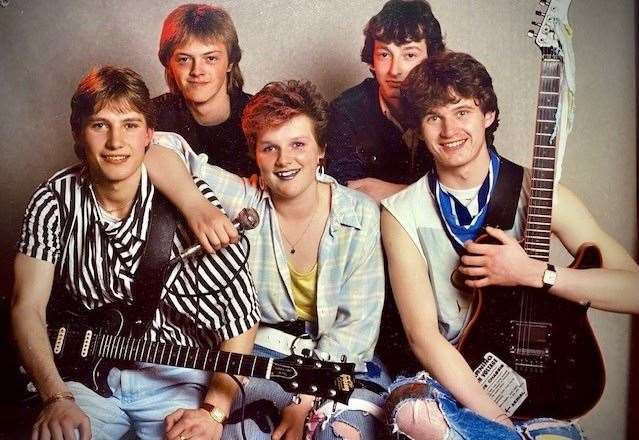 Rock band Caithness reunites after 35 years to play in America
A rock band CAITHNESS, which broke up 35 years ago, is reforming and playing two venues on the West Coast of America.
Fast Forward was formed in Wick in the mid-1980s and featured Lee Nightingale on guitar, Kevin Henderson on bass, Fiona Sutherland on vocals, Gordon Mitchell on guitar and Glen Campbell on drums. The line-up underwent some changes, but they played at Caithness and elsewhere in the north for around two years before going their separate ways.
They continued to play music and were still part of the local band scene, but work took them to different parts of the UK and the world.
Lee worked on nuclear submarines with the Royal Navy at Faslane but moved to San Diego – his wife's hometown – in America in 2011. Kevin was a uranium scientist at Dounreay but now works for the Nations United in Vienna, Austria while Glen moved to Durham about 16 years ago. He worked as a radio host for over 30 years.
"We just lost touch because of the circumstances, nothing else," Glen said. But just out of the blue, Lee contacted him last year and told him he was considering reforming the group. Originally it was hoped that they could play Wick's Assembly Rooms with other bands from that era and call the event the Rosebank Reunion, but that never happened due to the coronavirus pandemic.
So Lee suggested we try to get some gigs in San Diego and have a reunion there. Fiona and Gordon couldn't go due to work commitments, so the band will be doing the US gigs as a quartet with Lee, Kevin, Glen and vocalist Catherine Clark (Cee Cee) who stays in San Diego. She just joined the group in March.
"We do it for a little fun, but there were challenges with rehearsals because we all live in different parts of the world," Glen said. The group had to overcome some technical issues and time differences to practice online.
For US theaters, they will play music from Bon Jovi, Bryan Adams, Gary Moore, Joan Jett, Heart, Pat Benatar and the Black Crows. "It's still going to be a rock set but a bit more bluesy," Glen said.
He and Kevin touch down in Los Angeles on Wednesday, September 21, and the band have their first real rehearsal the next day at a rented studio.
"We have a few radio interviews in the afternoon. Our reunion has been a bit of a buzz as the band travels from all over the world to play in San Diego, so a lot of people have been asking about that and where they can see us," Glen said.
On Friday (September 23), they played their first concert in San Diego in an outdoor venue and the following night performed at a private reception in the city.
"It's nice to get back together after 35 years, but the enormity of it all only started to sink in over the past two weeks. We'll be streaming both concerts live on our Facebook page and hope that people who remember us playing all those years ago will watch the show," said Glen who said the link was: www.facebook.com/groups/ff5.0uk/
"I was hoping for some rest after that, but Lee arranged for us to see Iron Maiden in Mexico on
Sunday and my flight leaves Los Angeles airport at noon on Monday, so there will be no sightseeing for me."
When asked if it would be a one-off reunion, Glen replied, "No." The band plan to make further bookings and intend to perform again in Caithness.
"We will definitely come to Wick," he added.
---
Do you want to react to this article ? If yes, click here to submit your thoughts and they may be published in print.
---