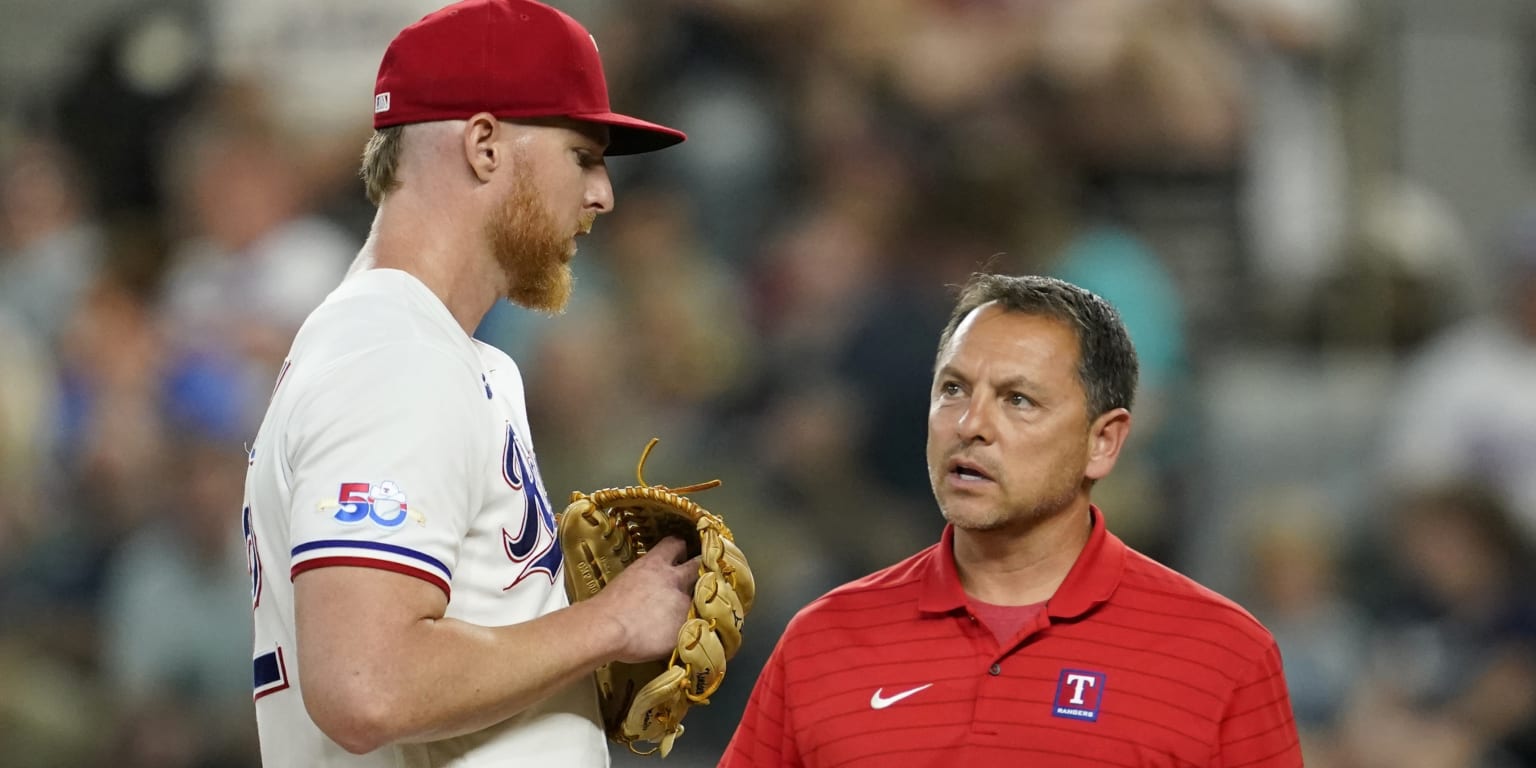 Jon Gray walks out with injury for Rangers
ARLINGTON — Ahead of Monday night's game with the Orioles, Rangers manager Chris Woodward praised Jon Gray's recent streak (a 2.65 ERA in 11 starts since June 1) and the quality of the right-handed pitcher when healthy.
Unfortunately, the good state of health did not last much longer. In the second inning of Texas' 7-2 loss to the Orioles, Gray began to feel something like a cramp in his left side.
"I've never had anything like this, like an oblique thing, before, so I thought it was a cramp," he explained. "I stretched a bit, but with every throw I felt it. One of them was hurting me badly, so I knew something was wrong.
Midway through the Anthony Santander fight, Woodward and trainer Matt Lucero ran to the mound and spoke with Gray for a few moments before it was decided he would leave. Gray left the game with just one out in the second inning after recording 48 pitches. He handed the game to Jose Leclerc with the bases loaded and an out and Santander in a 1-2 tally.
Gray will undergo further testing on Tuesday and will continue to be evaluated by Rangers medical staff in the coming days. Woodward noted that the best-case scenario makes it look like Gray would only miss one start with what the club later officially declared as "left-sided discomfort".
"Hopefully we get some good news tomorrow," Woodward said. "He'll probably get a CT scan, do all of the above, see how he feels and what it looks like. Hopefully it's nothing major. I just hope it's not too long term. Those injuries, if anything significant, keep the guys out for a while. Especially when throwing so hard.
With the idea that Gray could miss an extended period, Rangers will have to find options to replace him in the rotation behind Martín Pérez (if he is not traded by Tuesday's deadline), Dane Dunning, Spencer Howard and Glenn Otto. . The back half of the rotation has already been inconsistent, so the (good) options are limited.
The deadline is coming up fast, with some time for Texas to add an external option, but here's a look at some potential internal fixes for now.
If Rangers don't acquire a starter in the final hours before the trade deadline, Hearn is likely the immediate option until things are fully settled.
Hearn opened the season in the rotation, was relegated to the bullpen in June, and was eventually sent to Triple-A Round Rock shortly thereafter. Woodward said he thinks Hearn is more useful in a multi-inning reliever role where he doesn't face a lineout more than once, but one or two starts wouldn't be out of place.
Hearn has a 6.25 ERA as a starter and 1.59 as a reliever this season.
Even before Gray's injury, one of the Rangers' pitching prospects would likely have made a strong case for being called up at this point in the season.
However, the best pitching prospect at Triple-A Round Rock, only Cole Ragans (#28) is having a worthwhile season. The southpaw posted a 2.81 ERA in 10 starts with Double-A Frisco before receiving a call in mid-June. Since then, he's had a 3.32 ERA with the Express in 43 1/3 innings. Although Ragans is the only Triple-A prospect to have an above-average year, he also has the most limited time at this level, which could make a difference whether he gets a call-up or not.
Other prospect options include Cole Winn (#5, MLB #77) and AJ Alexy (#23).
Winn was expected to make his Major League debut this season but struggled in his second Triple-A season. He had just two starts with the Express last year but made the most of them, allowing just three earned runs in eight innings. This season he has struggled with his command and control, raising his ERA to 5.72 and likely delaying his debut.
Alexy had a cup of coffee in the majors last season, but didn't make the Opening Day roster and struggled in Triple-A this season at a 6.42 ERA .