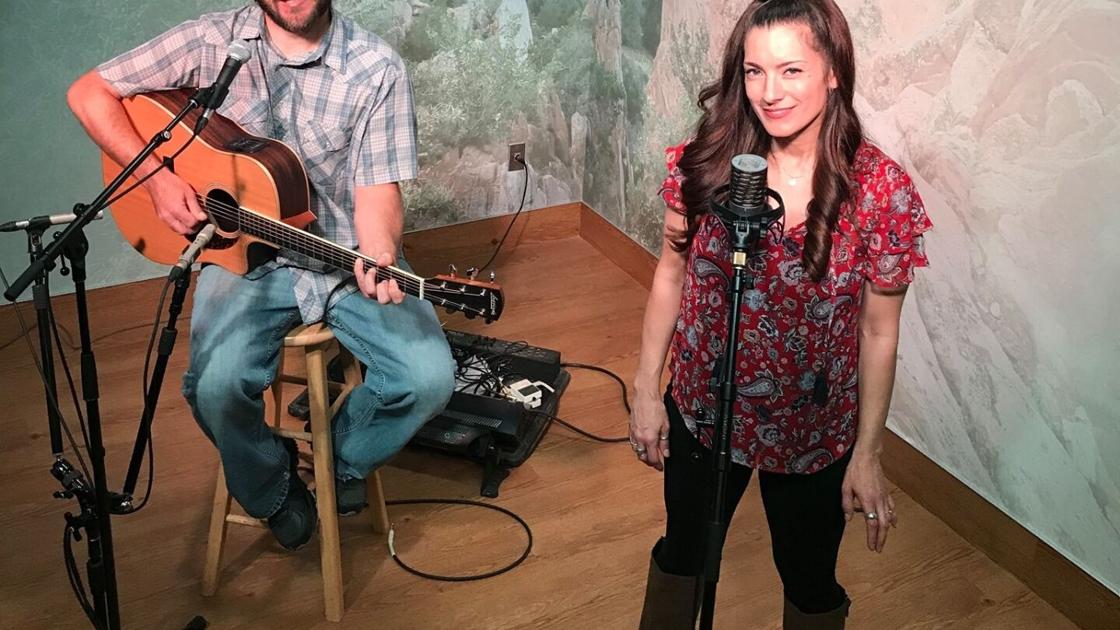 couple from Green Mountain Falls form handcrafted funkin soul reggae rock band | Pikes Peak Courier
It took a while and a few twists in life to successfully bring the Gilmore Family Band together.
The same could be said of the relationship behind the band.
Jason and Shannon Gilmore met 20 years ago when they were in their 20s. They started playing music together around Colorado Springs in a group called The Old Dog Band. She sang. He played the guitar and the mandolin.
Their instant connection, as friends and musicians, is the kind that brings up words like "destiny" and leaves Shannon Gilmore on the hunt for the right words.
"I guess our souls just liked each other," she said. "It's not weird, but it's true."
But their love affair was in no rush to begin. She was married and started a family. And after five years in the group, she returned to her hometown of California to be closer to her family.
She and Jason didn't talk much for the next 10 years.
He stayed here, playing in bands like Creating a Newsense and Woodshed Red. Shannon walked away from the scene.
Then she moved back to Colorado in 2016. When she took over the Rocks Sports Bar & Grill and started hosting bands there, she invited her old friend to play.
"When I returned, our friendship was still there," she said. "It kind of picked up where it left off."
Just like their musical bond. And this time they were both single. Over the next two years, their bond evolved into "something more".
They tied the knot in November 2019. Around the same time the couple started sharing a last name, they also officially launched the Gilmore Family Band.
The group, described as "rock soul funkin 'handcrafted reggae" also includes John Wise on bass and Teddy Nazario on drums. They often invite other local musicians to join the family, such as their next show at Front Range Barbeque, which is billed as an evening with "The Gilmore Family Band and Friends".
At home, the family is also growing.
It was another interesting case of timing, as the new husband and wife welcomed a baby boy named Graham on March 12, 2020. They soon learned that they would be staying home with their newborn baby for much longer than that. expected in the midst of the pandemic.
"We spent the year writing songs and being home with the baby," Shannon said. "That's kind of all we've done."
They barely left their home in Green Mountain Falls, spending time in the garden and around Jason's guitar. Jason taught Shannon's 6-year-old to play a few instruments.
When the baby was asleep, they found time to write about a range of emotions felt during the pandemic. Shannon said the song ideas came from "scary times and good times and mutual love."
Writing songs together is also a kind of inexplicable magic. "I don't play an instrument," Shannon said. "But I can sing him a song, and it's like he knows what I'm hearing in my head."
The duo wrote enough songs that they would soon take a break from concerts to record an album. You can bet this is a family affair, perusing the group's social media pages.
Their Instagram looks like a mix of family scrapbooking and music page. In the videos of Jason and Shannon playing a song, they are often joined by their children.
Over the next few weeks, the band will be taking their music to places outside the home, like The Blue Moose Tavern in Green Mountain Falls, and Boot Barn Hall and Cleats Bar & Grill West in Colorado Springs.
Contact the author: [email protected]