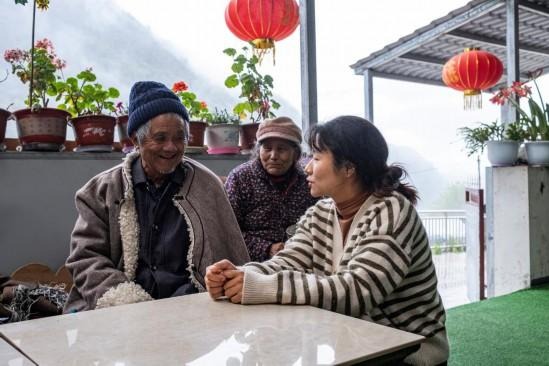 Blue canvas shoes lift man out of poverty
LHASA-Sangye Lekpo was the first in his family to have shoes.
In 1963, at the age of 19, he traveled 300 kilometers barefoot and bought his first pair of blue canvas shoes with white soles. They cost about a third of his monthly income.
"They were the only shoes in my family. I only put them on to go to town," said Sangye Lekpo, now 78.
Sangye Lekpo is from a village in Baibung Township in Metog, a remote county in the heart of the Himalayas in the Tibet Autonomous Region. He belongs to the Monba ethnic group, one of the smallest ethnic groups in China.
Before the peaceful liberation of Tibet in 1951, most people in Monba in the mountainous region lived in a primitive tribal society, with slash-and-burn cultivation and slow development.
With an average altitude of 1,200 meters, much lower than most of Tibet, the climate of Metog is humid and rainy. Local farmers have grown rice, corn, finger millet and other crops for generations.
Sangye Lekpo still remembers the days without shoes while working in the fields.
Once his foot was cut off by a rock while he was working in the rice fields.
"With no hospital to turn to, I had to pour hot lard oil on the wound and wait for it to heal," he recalls, adding that work in the paddy field was delayed for several days at cause of his injury.
Due to Metog's geological isolation, people had to climb a snow-capped mountain to the nearest township to buy basic necessities. The round trip took seven days. Trekking barefoot in the snow often leaves feet feeling numb, Sangye Lekpo said.
Even today, Sangye Lekpo suffers from irritated skin on his feet which gets worse in winter.
"My suffering is not so bad as that of a man from the neighboring village. He lost his toes due to frostbite," he said.
Things started to change after the peaceful liberation of Tibet in 1951.
The region carried out democratic reform in 1959 to abolish feudal serfdom, established the socialist system and implemented regional ethnic autonomy, and pursued reform and opening up as well as modernization.
In the 1960s the government started building a highway to Metog and many villagers were hired for road construction. Due to the complicated geological conditions and frequent natural disasters, the construction of the highway took decades until its completion in October 2013, when the Metog Highway was opened to traffic.
Metog, known as the last roadless county in the country, ended its isolation with the opening of the highway.
"Thanks to road access, young people can work in towns, and bamboo basketry and other local specialties are sold from the mountains," Sangye Lekpo said.
By the end of 2019, Tibet had eradicated absolute poverty, with 628,000 poor residents lifted out of poverty.
The per capita disposable income of farmers and herders in Metog County topped 14,000 yuan ($2,100) and the per capita disposable income of urban residents reached more than 40,000 yuan last year. All eight townships in the county now have road access.
Sangye Lekpo now owns many pairs of shoes ranging from loafers and slippers to sports sneakers.
His grandson Tashi Phuntsog, a football enthusiast, likes to buy football boots online.
Tashi Phuntsog is at Yangzhou University in Jiangsu Province. He hopes to return home after graduation and contribute to the development and growth of his hometown.
"A good pair of shoes can take us to better places," said the 20-year-old.