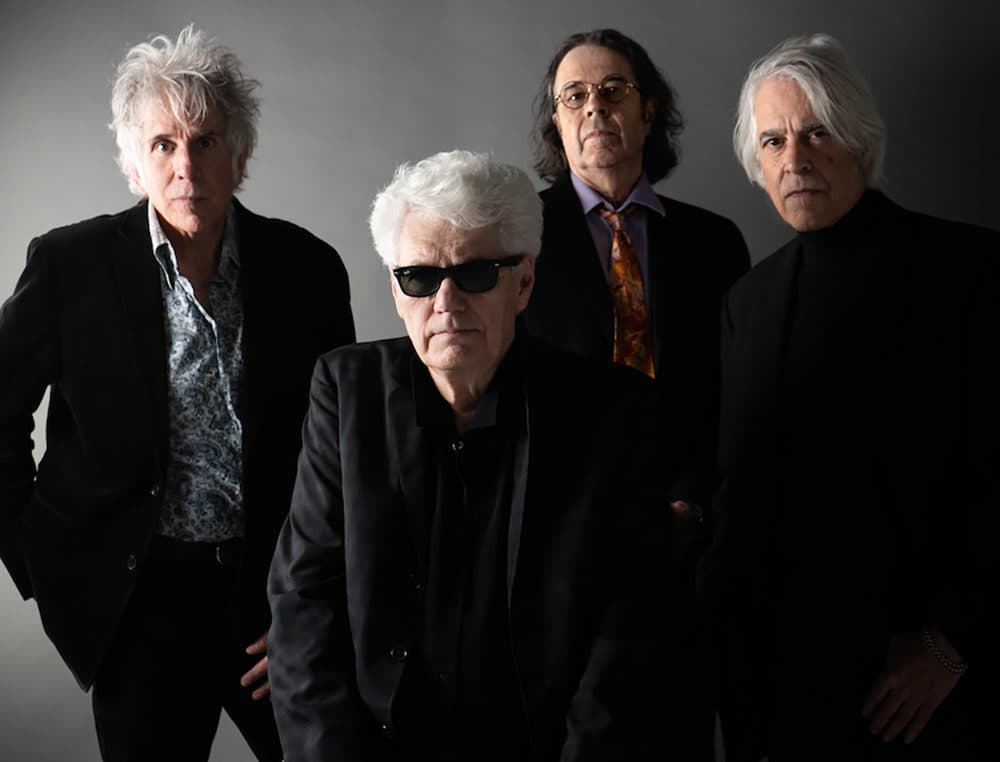 40 years later, punk rock band Nervous Eaters are still going strong
There's a lot to cover when you talk about Nervous eaters. Formed in the mid-1970s, the Boston-based punk rock band lived through a time we'll probably never see again, a time when clubs across the city rocked to the sound of rock and roll any night of the week. Some people go so far as to label Nervous Eaters as one of Boston's first punk bands, a title earned after countless nights playing The Rathskeller – ubiquitously known as "The rat" – in Kenmore Square, where they held a position as a house band. "[Nervous Eaters] would be open to anyone who passed by – Elvis Costello, Talking Heads, The Stranglers, The Police, The Go-Go's," says Brad Hallen, the band's bassist. "Everyone played there.
Shaped by the city's student youth and their gruff, urban attitude, Nervous Eaters, led by lead songwriter Steve Cataldo, represented a stage in Boston's rock history defined by the convergence of punk and Top 40s rock radio. "Loretta," a jagged girl-loving song and the band's most popular song of the late '70s, was equal parts New York Dolls and The Cars, bluesy and melodic, but with an insensitive edge. "[Steve] Cataldo is one of the architects of what made it all possible," says Hallen. "People don't really realize it because they weren't around at the time. But I was, and I know it.
Now, some 40 years later and with a revised lineup, Nervous Eaters find themselves in the throes of old school rock 'n' roll with "Monsters + Angels" (out November 11), an album so rowdy and energetic, it's feels taken from the recorded archives of The Rat. Although its members are well into their 60s, the Nervous Eaters head into 2023 only slightly more tame from their punk heyday.
"We're all getting older here, there's more self-reflection here. It's a natural part of aging. But it's a beautiful thing," says Hallen, who also performed co-production duties on the album. Such wisdom can be gleaned between 12-string guitar strumming on "Superman's Hand," a Tom Petty-esque ode to oneness. "The world is so screwed up right now," Hallen says bluntly. "'Superman's Hands' is a metaphor for helping someone else."
Elsewhere, not much has changed for Nervous Eaters in terms of scope and vision. As in "Loretta," the heart of Cataldo's songwriting has been relationships — primarily girlfriends — and it is now. Songs like "Want You Like Before" and "End of the World Girl" rumble with the same light-hearted disregard for decibel levels the band had in 1978, a flurry of crisp guitars and screaming vocals over birds and bees.
Hallen maintains that Cataldo "writes the best songs of his career". It's high praise for someone who was courted by major labels in the 80s after the underground rock boom. "Record labels came a long way in Boston after The Cars broke up to sign bands," he says, noting The Cars' Ric Ocasek produced a 10-song demo that caught Elektra Records – the label would eventually release. Nervous Eaters' debut in 1980. Asking Hallen if the band had any particularly crazy stories from the days of The Rat, he aptly replied, "Well, maybe we don't want any of those stories in writing. " Such secrets line the lyric sheets of their discography.
"Monsters + Angels" feels like an attempt to revive Boston's gritty underground, a reminder of the creative commerce that drove the city. Like many rock 'n' roll records before this one, the meaning of the music is driven less by some kind of bigger manifesto or concept, and more by pure energy. And despite many starts and stops over the years, personnel changes, changing tides, the pandemic, and more, Nervous Eaters' new effort does not lack energy.
---
Nervous eaters play the burren in Somerville on Saturday November 5th.